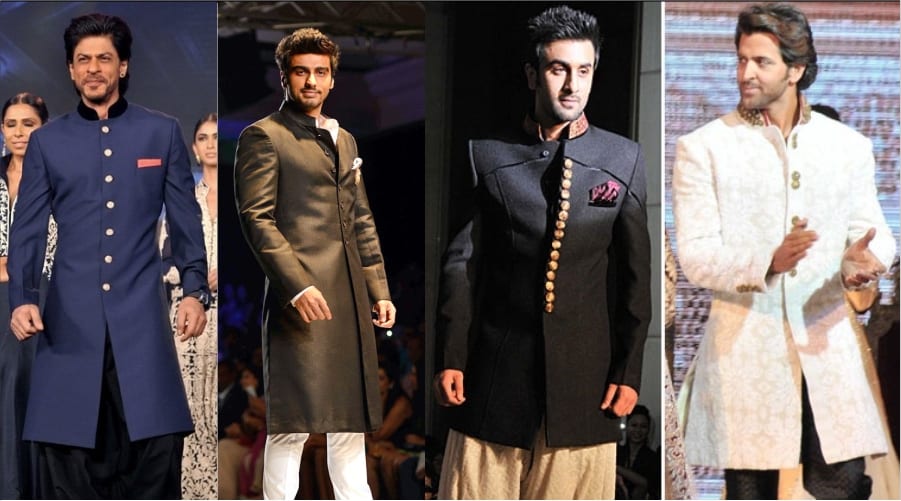 How To Style Your Sherwani Right!
If you have worn a churidar, your sherwani should be somewhere around your knees. This will accentuate your body structure. If you wish to wear pajama, you have freedom of length. However a long sherwani will be most appropriate. And as for dhoti, your sherwani should be comparatively short, higher than the knee.
Dupatta – Dupatta adds color and breaks the monotone. It brings together your outfit. Originally dupattas had to match your bottom. However, the beautiful sequence and designs on your sherwani should be added to your dupatta to add more style. For this purpose it is important to get your outfit specially stitched.
Footwear – The perfect footwear to be paired with your sherwani is a good pair of mojaris. A pointed and curved mojari is apt for dhoti. Churidar and pajama may be paired with flat-topped mojaris. Your mojari should match your sherwani if you want your outfit to fall in place! Always wear a tailor-made mojari!
Accessories – Accessories that go with your sherwani include a smart watch, turban or a kufi. Kufi is a smart hat that adds class to your outfit. I would suggest a tailor-made kufi as well! Men may carry a talwar. And trust me, if the occasion is right, that adds royalty guys!
Guys I will once again emphasize on the importance of custom made traditional outfits. I know it is easier to get a store bought one but if you want to do it right, get it stitched!
How To Style Your Sherwani Right!